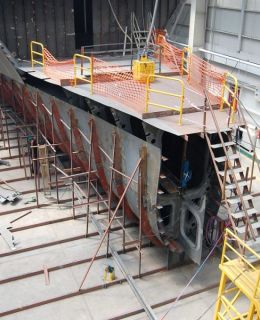 Yacht Construction
Delivering yachts with ultimate quality service and satisfaction help us soar above the rest of the yacht building companies in Turkey and maintain a well established reputation, We have built over 30 vessels of different lenghts between 15-50 meters in the past 30 years. yacht constructions are realized under the supervision of Either Rina class or Turkish Lloyd's which are world wide recognized as first class within the international marine society such as Abs, Lloyd's, Bv, Rina and internationally accepted principals and standards such as Mca, Uscg, Solas, Imo and Marpol.
Besides the fleet of vessels delivered, the newly designed yacht construction have unique concepts where we intend to change the standard of luxury yachting forever. Under yachts construction lies the series of fast trawlers, Luxury Gulets, Performance sailing yachts and Displacement mega yachts above 50 meters.
Until late 1960′s, almost all yachts were made of wood or steel, but we have much wider range of materials are used today. Although wood is still in demand, the most common construction material is epoxy coated fiberglass, followed by High tensile steel, aluminium, carbon kevlar and Compozite.
Yacht Construction in Turkey
The use of wood has changed and is no longer limited to traditional carvel planking based methods, but also include modern products such as marine plywood and epoxy resins. Wood is mostly used by carpenters or wooden yacht enthusiasts when building a luxury yacht. Apart from space age materials like carbon kevlar and aramid fibre, The epoxy laminated mahogany stripes with epoxy resins have the best weight to strength ratio of all boat building materials. Modern day Sailing yachts can range in overall length from about 6 metres to well over 50 metres, where the distinction between a yacht and a ship becomes blurred. Most privately owned yachts fall in the range of about 7 metres to 14 metres. the cost of building and keeping a yacht rises quickly as length increases.
Blue water Cruising yachts are by the far the most common yachts in private use, These yachts can be quite complex in design, as they need a balance between docile handling qualities, interior space, good light-wind performance and on-board comfort.
Racing yachts try to reduce their wet surface area, which creates drag, by keeping their hull light whilst having a deep and heavy bulb keel, allowing them to support a tall mast with a great sail area. Modern designs tend to have a very wide beam and a flat bottom, to provide buoyancy preventing an excessive heel angle. Speeds of up to 35 knots can be attained in extreme conditions. Dedicated offshore racing yachts sacrifice crew comfort for speed, having basic accommodation to reduce weight. Depending on the type of race, such a yacht may have a crew of 15 or more. At the other extreme are single handed races, where one person alone must control the yacht.
The motive force being the wind, sailing is more economical and environmentally friendly than any other means of propulsion. A hybrid type of vessel is a motor sailing yacht that can use either sail or propulsion or both. Modern sailing yachts can be equipped with electric inboard motors in order to reduce consumption of fossil fuels. The latest technology are outboard electric pod drives that can also regenerate electricity (motogens). These motogens can be made retractable to increase the efficiency of the yacht. Some of these yachts are extremely efficient and do not need additional diesel generators. This technology is called Green Motion.
Monohull yachts are typically fitted with a fixed keel or a centreboard below the waterline to counterbalance the overturning force of wind on the vessel's sails. Multihull yachts use two hulls (catamarans) or three (trimarans) widely separated from each other to provide a stable base that resists overturning and allows for sailing in shallow waters.