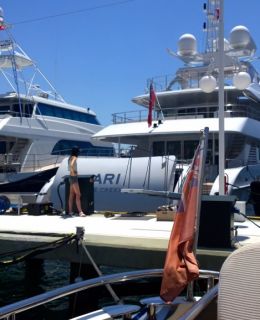 Motor Yacht Building
Many generations old traditions at sea trading with motor yacht and ship building have helped us accumulate know how and experience when it comes to yacht building , Quality yacht building materials and Heritage craftmanship and Innovation are the most important pillars that form the foundation of the Turkish Motor yacht building Industry.
Some of the boatyards are still family owned from Fathers to sons continue to transfer the knowledge to their children, from one generation to another. at the beginning most of these boatyards used to build only classic boats to carry cargoes and passangers and late 70's our boatyards started motoryacht building in small sizes. motor yacht building
Motor Yacht Building
Turkish Yacht builders are able to meet the clients high expectations to deliver the products and services of the highest quality and timely. Recent technological researches and space age materials such as epoxy , kevlar and composite materials as well as steel and aluminium has been widely used in Turkish motoryacht building industry.
Ever changing design and clients' personal demands pose unprecedented challenges and complications however the combination of know how and experience and thanks to 3D  ddesign softwares and radical changes in construction materials allows Turkish yacht builders to constantly find innovative solutions. motor yacht building
Generations of existence and experience in Yacht building we have acquired exclusive knowledge of the yacht building industry, furthermore our close relationships with all major Shipyards, suppliers and naval architects has greatly influenced the position of our international market in Motor yacht building industry. motor yacht building in Turkey