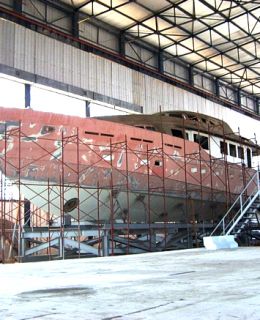 Yacht Design in Turkey
Our Shipyards are located in Tuzla region Istanbul, Antalya Free zone, Bodrum Tavsanburnu and Fethiye Karagozler. our team of craftsmen have the good reputation as manufacturers of high quality Gulets, Motoryachts and sailing yachts as per our client's desire. Our boats enjoy Iso 9002 International Quality Certificate and the Production Certificate from Rina (Registrano Italiano Navale).
Our Shipyard has got the Investment Incentive Certificate from the Turkish Government and has started to invest in the boatyard which is a Joint Venture Capital where the yard is operating. The boatyard and the craftsmen has waste experience in the industry and being on the producing side of high tech composite motor yachts since 1988, working with the most prominent Naval Architect and Marine Engineers with utmost experience and highly experienced construction team being started to work together as a team of master craftsmen in Turkish yacht building industry.
Yacht Design Turkey
The yacht building industry is unique where craftsmanship plays the most crucial role. Yacht's quality relies on the know-how and its skillful craftsmen who are by all means one of the Boatyards most valuable assets. Our Shipyard is proud to say that its expertise together with the use of top of the line quality materials which makes our yacht building of fine workmanship standout amongst many other Turkish boatyards.
Our Boatyard easily adapts the radical designs of new projects and the incorporation of new features imposed by the needs of our customers, Thanks to our hardworking yacht construction team efforts we have been able to guarantee the satisfaction of our Turkish as well as many foreign clients from all over the world.
New attractive designs, excellent performance, fuel efficiency, smooth ride, minimum weight, maximum strength, stability, and their precise turning characteristics makes our boats more valuable than their competitors.
Yacht Building in Turkey
We are working with teams of specialists and we have adapted the shipyard to achieve best production capability. All our yacht building projects designed in the highest standards with hi tech machinery and the best quality workmanship that works for the highest standards of yacht building industry. Yacht Design And Building in Turkey
Our yacht Building projects include but not limited to displacement and semidisplacement motoryachts, Luxury Gulets and Performance Sailing yachts. just to mention our upcoming projects in Istanbul shipyard that we are undertaking projects of custom steel aluminum and composite mega yachts and military crafts.
To summarize, We offer quality, aesthethic and quality engineering thus we guarantee complete customer satisfaction and we would love to welcome your projects with our ready, willing and able team which is capable to handle the responsibility of building high quality yachts and to protect our reputation in the yacht building Industry.