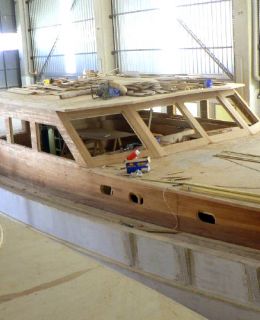 Motor Sailer Building
Turkish yacht built gulets enjoy a long lasting reputation in the mediterranean and are much more spacious than any other sailing yachts and are built with epoxy laminated mahogany with west system epoxy lamination and the gulets can be built for up to 10 cabins which are mostly preferred by cabin charter agencies.
Turkish gulets can be build upto 40 meters in length anything bigger that that size we propose to use steel as construction material they offer much more fresh water capacity and provision storage space in order to carry out longer yacht charter holidays in Turkish coastal waters and the neighbouring greek islands. most gulets are built with twin screw and twin generators not to mention fully air conditioned confortable cabins and state of the art luxury accomodations and amenities aboard.
Motor Sailer Building
Turkish Gulet building industry is leading the way with innovative design and space age materials to build large and luxury motor sailer gulets which can be called goelettes, goletas, gullets, gulets and also caique or caicco in latin languages. Gulet consctruction prices in Turkey vary depending on number of cabines and/or owner's choice of spacious designs to compete with luxury motor yacht building, considering the sailing capacity and professional rigging of the gulet. they are equal or superior in many ways to motoryachts with gulets long range capacity with sails and stability advantages due to their long and heavy keel. If you are considering to Build a Turkish Gulet from Steel , epoxy lamination or composite materials please feel free to consult with us.